This NP Owns Her Own Clinic, Could You?
As I walk into East Nashville Family Medicine, it's evident that a lot of work has gone into getting this clinic up and running. I have worked with Mimi, part owner of the clinic, for a few years now and am excited to hear the story of how she decided to go out on her own. We order coffee at the shop next door and sit down to chat. I become even more interested in Mimi's story when she mentions is all starts with, well, poop.
Intrigued, I take a sip of my coffee and lean in to ask Mimi a few questions about her latest business venture.
How did you decide to open your own clinic? How did you get connected with the other providers you are partnering with?
This is where poop comes into play. Mimi's husband is a plumber. One day, out on a house call, he began to chat with the homeowner. The conversation took an anatomical turn. Mimi smiles as she recalls her plumber husband's question to the homeowner- "You know my business involves poop, why do you enjoy talking about poop?". Little did he know the impact this question would have. The homeowner with the plumbing problems that particular day was family practice physician Dr. Rozmond (Roz) Lewis. Mimi says that "If my husband had not said that, I'm not sure we would have met otherwise, even though we live two streets away from each other".
Mimi and Roz began to meet for lunch occasionally, casually discussing the idea of opening a clinic together. Mimi says she had thought about opening her own clinic for a long time but meeting Roz, a physician living in her own neighborhood with similar dreams, helped turn them into reality. Mimi and Roz included another partner in their venture, Jason, a nurse practitioner and Nashville clinic owner.
How did you choose where to open your clinic?
"When this particular spot became available, we knew it was perfect for our clinic" Mimi says. East Nashville is a proud neighborhood and supports local business so Mimi is confident in the clinic's future success. Also, Mimi notes "It is just one mile from my house". I'm immediately jealous thinking about how ideal it would be to work so close to home.
I ask if there is much competition in the area and if this is a concern for the new clinic. "No" Mimi responds. Another nurse practitioner owns a busy clinic nearby but this is the only other source of healthcare for the neighborhood. Mimi says East Nashville's booming population will easily support both NP owned practices.
Tell us about the process of opening East Nashville Family Medicine.
I assume the process of opening the clinic was long and arduous but Mimi says otherwise. Once Mimi and Roz decided on the clinic's location, they got to work. The retail space was new and not yet built out so they hired an architect to get some plans together. With plans in place, they hired a contractor and began the build out process. Mimi notes there was a bit of a delay as codes took two months for approval, but once the project had been given the go-ahead the building process took just four months.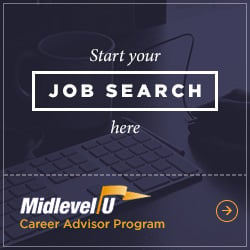 While the clinic was under construction, Jason, Roz and Mimi met weekly "going through long 'To Do' lists" Mimi says. Since Jason already owned his own clinic, he was in charge of logistics like getting credentialed with insurance companies. Mimi and Roz hashed out the details of how the clinic would operate on a daily basis. "It was nice to have three brains working on the project" Mimi comments.
As far as hiring a clinic staff, "we found them through references" Mimi says. The clinic staffs two nurses every day and will eventually hire a receptionist. "Everyone in the clinic knows how to run the front desk so we can help each other out" she notes.
What is it like partnering with a physician in this venture? How are you dividing job responsibilities?
When I ask Mimi this question, I am curious to hear her response. Most healthcare settings are somewhat hierarchical with the physician "in charge". Mimi is quick to correct my assumption. The three business partners, two NPs and an MD, are equal owners in the practice and have defined roles. Dr. Rozmond takes appointments as her experience is in primary care. Mimi has 20 years of experience working in walk-in clinics and the emergency department so she treats all walk-in patients. Jason serves mainly as a consultant offering his expertise as a clinic owner to facilitate smooth operation of the practice.
Roz and Mimi have struck an agreement when it comes to covering less desirable clinic responsibilities. Roz is permanently on-call because she doesn't like working weekends and Mimi takes weekend shifts as she doesn't enjoy call responsibilities. Sounds like a good pair!
What legal considerations did you take into account in opening the clinic?
Nurse practitioners in Tennessee are not allowed to practice independently so Dr. Rozmond will need to sign a portion of Mimi's charts to remain in compliance with state law. I ask Mimi if scope of practice laws have been a problem in getting the clinic open efficiently. "No", she replies, "I guess they don't feel difficult to me because they were much more restrictive when I first started practicing". She says NPs were not even allowed to prescribe controlled substances when she began her career.
What was the most fun part about opening the clinic?
"Decorating!" Mimi immediately responds. It's evident attention went into decorating and creating an overall feel when you walk through the front door of East Nashville Family Medicine. Mimi says the lobby is a "rotating gallery". Local artists display their works on the walls and the displays will be intermittently changed to make room for new collections. The intricate, green light fixtures suspended from the clinic's ceiling were also crafted by a designer in the neighborhood. The stunning wood sign behind the front desk portraying the clinic's logo was carved by a local craftsman.
As my final question, I ask Mimi what advice she would have for other nurse practitioners who aspire to own their own practices. "Don't reinvent the wheel", she says, "get a consultant who has done it before to help".
A big "Thank You" to Mimi for sharing her experience. It sounds like East Nashville Family Medicine will be a smashing success.
You Might Also Like: Advice from a Nurse Practitioner on Opening Your Own Clinic